Company
企業情報
Please contact us for inquiries by E-mail. info@kamata.co.jp
KAMATA Industry Co.,Ltd.  SALES PROMOTION DEPT
Summary of Company
KAMATA Industry Co.,Ltd.
CEO
Yoshiaki Kamata
Established
1921
Capital
93 million yen
Number of employees
110
Business Activities
・Design, manufacturing, and construction of clean rooms.
・Design, manufacturing, and construction of clean booths.
・Processing and sales of industrial rubber and plastic products.
・Design and construction of labor-saving equipment, as well as sales of related facilities.
・Design and manufacturing of quick-connect couplers for airtight inspections.
・Consulting on surface treatment and technology selection.
Head office

Shinagawa Grand Central Tower-Bldg 24F,2-16-3Konan,Minato-ku,Tokyo 108-0074 Japan

Branches
SAITAMA
1-298-3Hikokawado,Misato-city,Saitama 341-0005
KAWASAKI
2-4-20Ikegami,Kawasaki-ku,Kawasaki-city,Kanagawa 210-0832
SAGAMIHARA
3-2-1Kobuchi,Minami-ku,Sagamihara-city,Kanagawa 229-0011
FUJI
352-1Gokanjima,Fuji-city,Shizuoka 416-0946
・ENVIRONMENTAL ENGINEER
・MANUFACTURE DEPT
・SALES PROMOTION DEPT
SHIZUOKA
23-1Kataoka,Yoshida-cho,Haibara,Shizuoka 421-0303
NAGOYA
3-96Morisue-cho,Nakamura-ku,Nagoya-city,Aichi 453-0052
OSAKA
11-17Yokomakuranishi,Higashiosaka-city,Osaka 578-0956
FUKUYAMA
4-14-17Daimon-cho,Fukuyama-city,Hiroshima 721-0926
KUMAMOTO
1861-3Soryo,Mashiki-cho,Kamimashiki,Kumamoto 861-2233


Main Customer
Steel industry, Metal Industries
JFE Steel Corporation
Sumitomo Metal Mining Co., Ltd.
Nippon Light Metal Company, Ltd.
Mining industry, Cement industry
Mitsubishi Materials Corporation
Taiheiyo Cement Corporation
Paper manufacture、Printing industry
Oji Paper Co., Ltd.
Nippon Paper Group, Inc.
Dai Nippon Printing Co., Ltd.
Yomiuri Shimbun
Tokyo Paper Mfg. Co., Ltd.
Chemical industry , Food industry
FUJIFILM Corporation
Asahi Kasei Corp.
Nissin Food Products Co., Ltd.
Meiji Co., Ltd.
Lotte Co., Ltd.
Government and municipal offices public agencies
National Printing Bureau
National Maritime Research Institute
Machine industry, Electrical industry
Ricoh Company, Ltd.
Nikon corporation
Range of products
◎ KAMATA clean room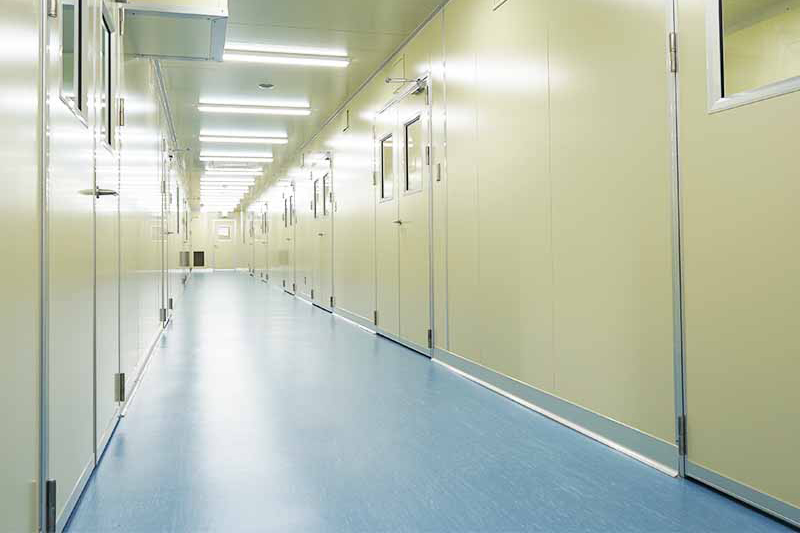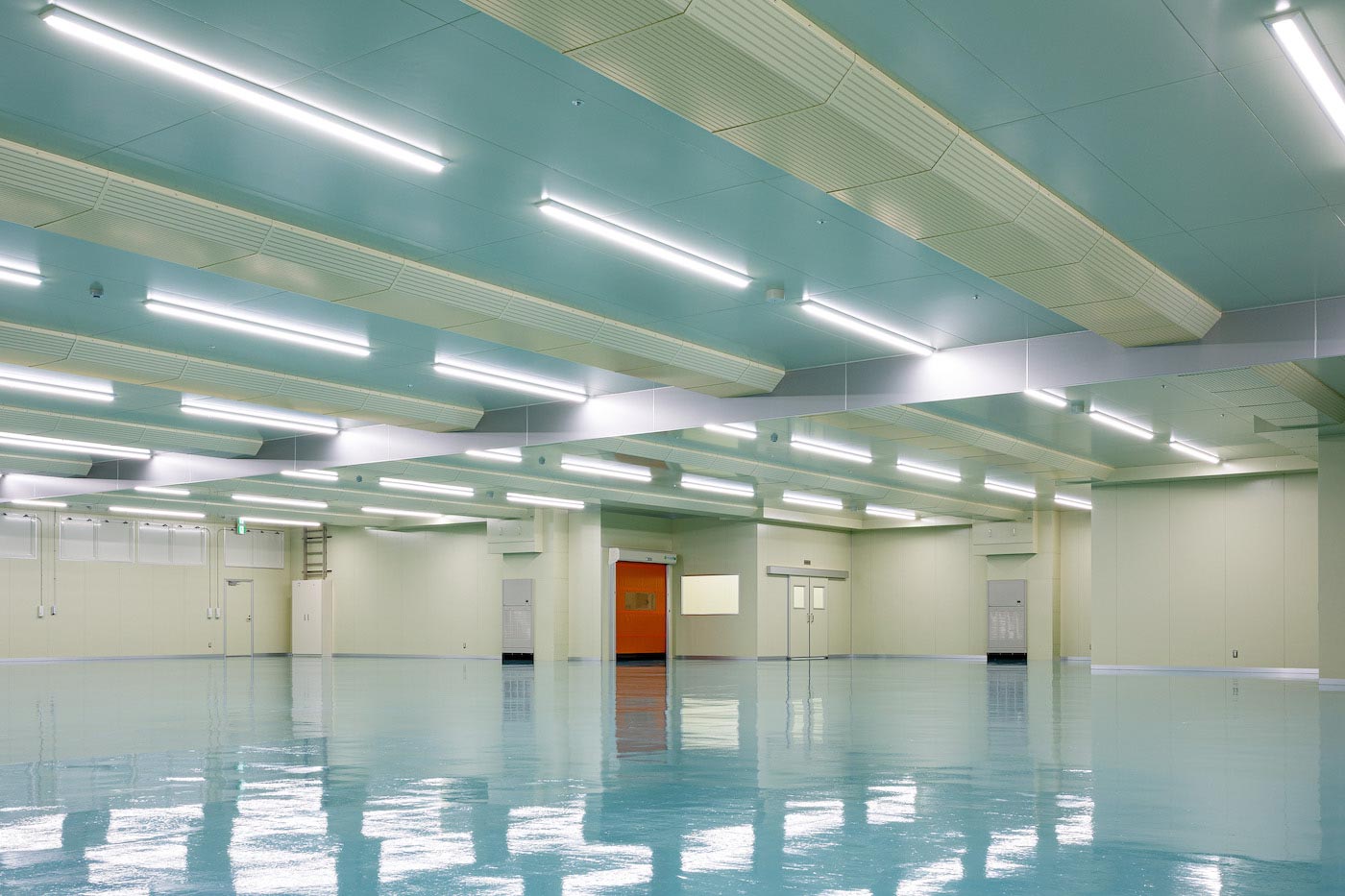 ◎ KAMATA clean booth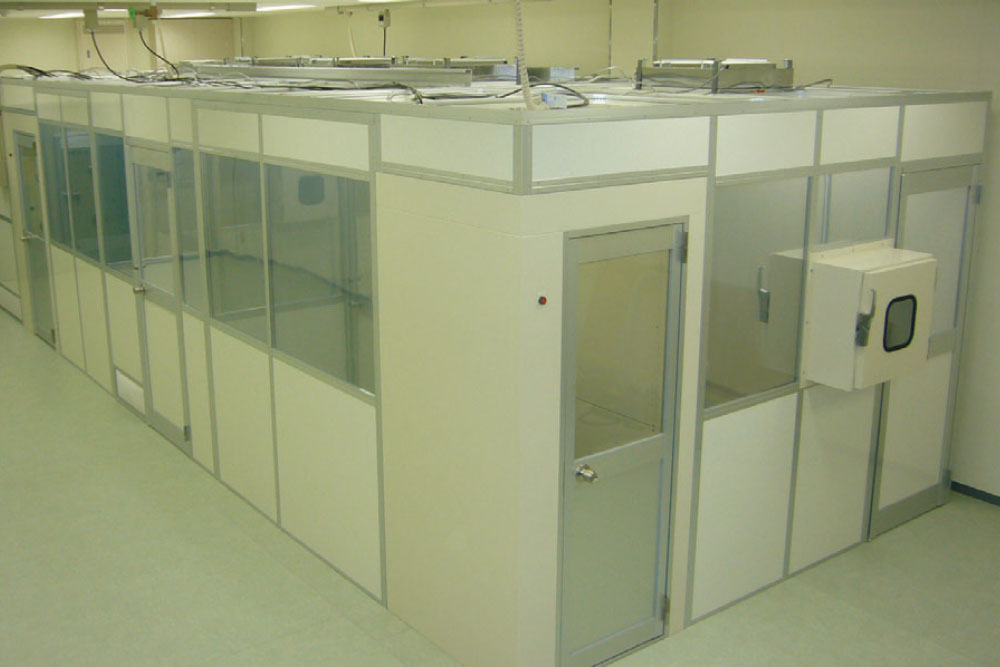 ◎ Leak testing coupler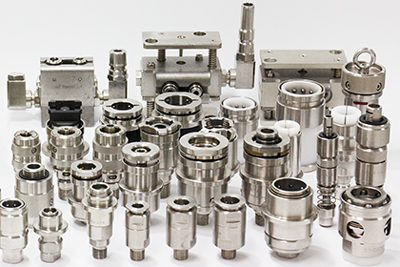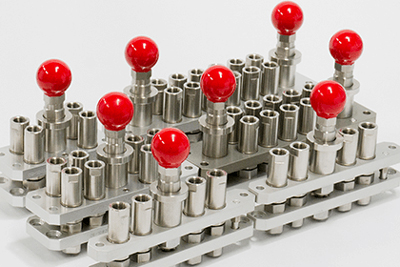 ◎ Belt and material goods
Belt, Materials-handling system, power-saving equipment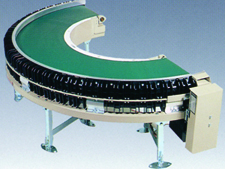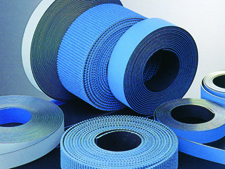 ◎ Hose and joint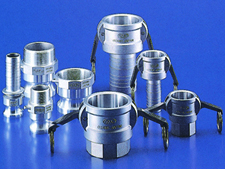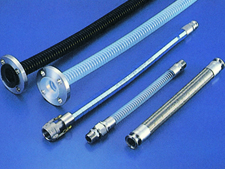 ◎ Surface treatment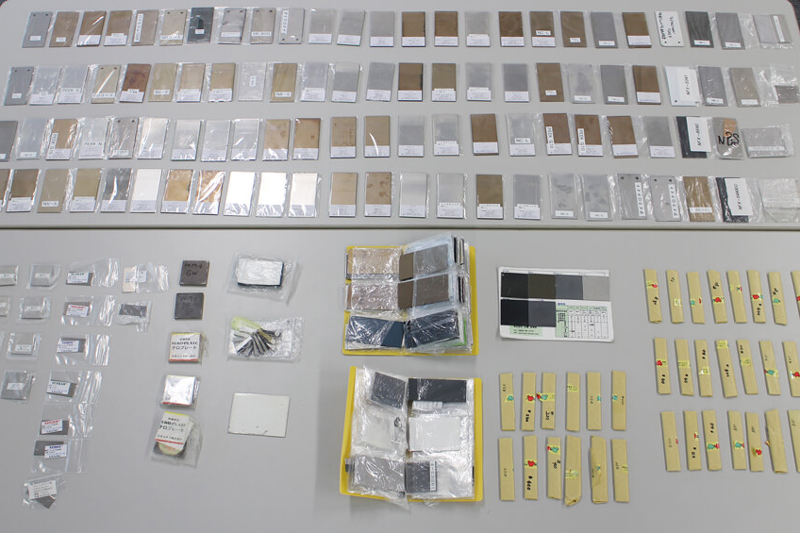 ◎  Emergency shower booth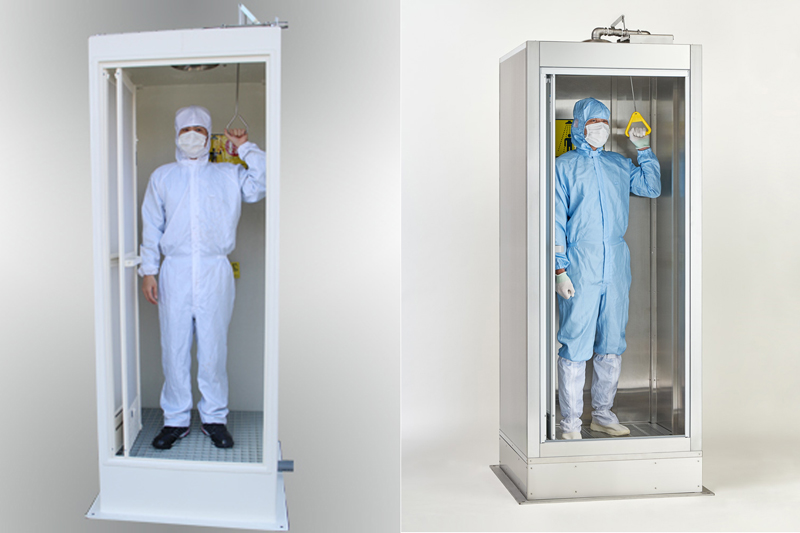 ◎ High-performance filter
◎ Tactile Sensor (Pressure distribution measuring system)
◎ Insulating material
◎ Waste water treatment
◎ Mechanical equipment
◎ Rubber and resin molding
Please contact us for inquiries by E-mail. info@kamata.co.jp
KAMATA Industry Co.,Ltd.  SALES PROMOTION DEPT
KAMATA CLEAN ROOM
The utilization of prefabricated heat-insulating panels allows for the rapid installation of clean rooms, ranging from ISO class 5 to class 8. These clean rooms find application in electronic component production lines, medical supply production lines, food processing facilities, and other sectors demanding stringent levels of safety and hygiene.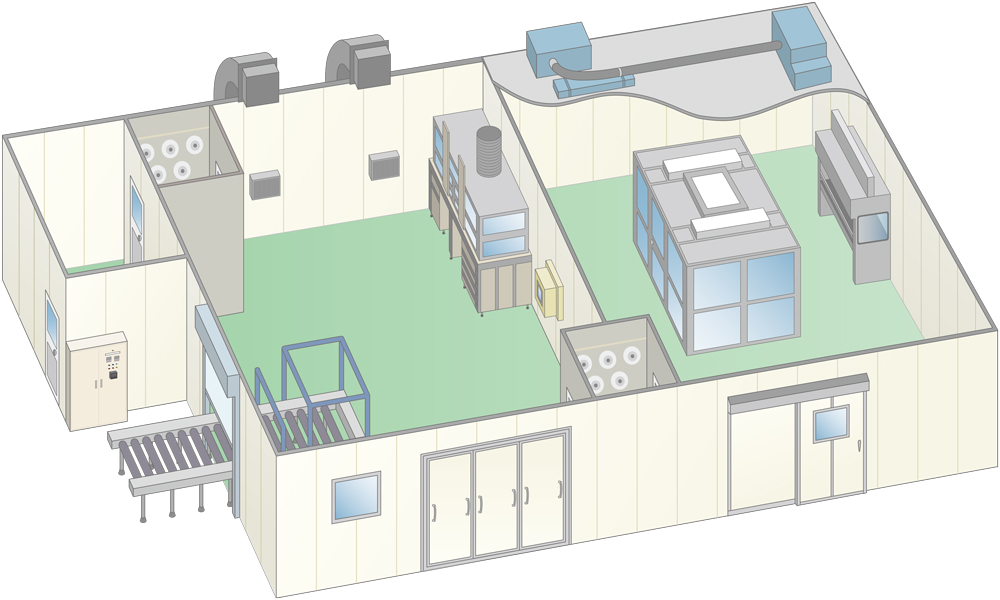 Enhancing Design Flexibility with Heat-Insulating Panels
Our offerings encompass a wide spectrum of clean rooms, ranging from high-performance facilities where the entire ceiling acts as a filtration system to specialized rooms designed to effectively block external dust ingress. Leveraging cutting-edge climate control technology, we deliver optimized solutions for maintaining pristine environments. If required, additional measures such as floor coatings and grating can be implemented to further enhance cleanliness.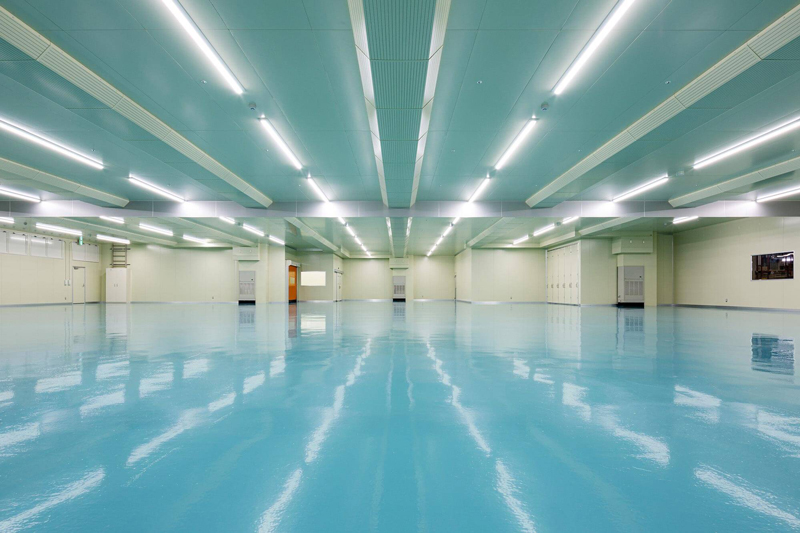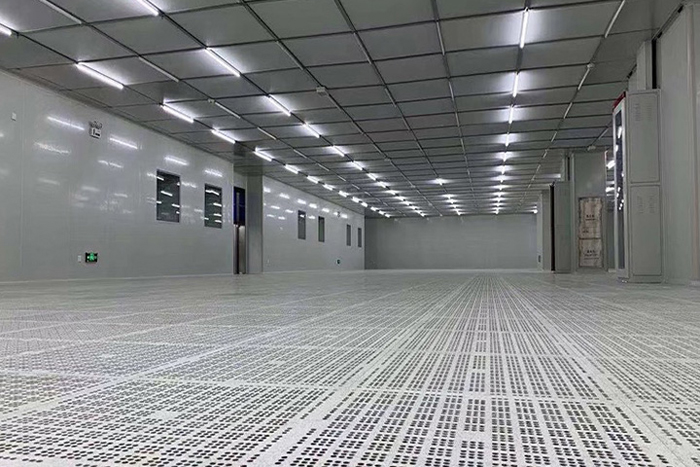 Exceptional Cleanliness Standards
We provide everything from high-performance clean rooms whose entire ceiling sections act as filters to special rooms that prevent outside dust from entering, utilizing climate control technology to provide an optimized method for keeping rooms clean. If necessary, floor coating, grating and other measures can be applied.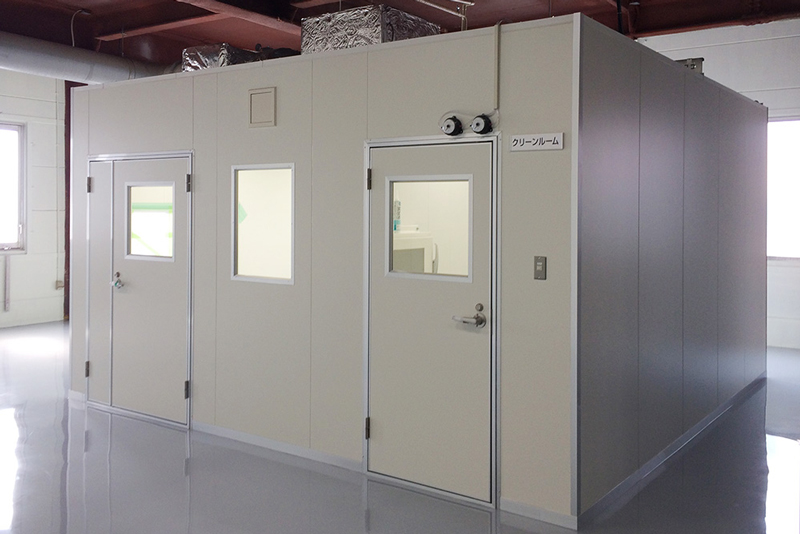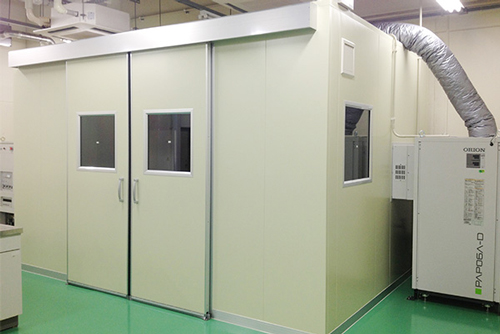 KAMATA Clean Booth
Our KAMATA Clean Booths are tailored to your precise requirements, featuring original aluminum frames that deliver contamination control solutions made to order. These booths are capable of achieving cleanliness levels ranging from ISO class 5 to class 8.
We've implemented a specialized lightweight aluminum frame design, prioritizing both sealing performance and safety. To create a pristine clean environment, we've replaced traditional vinyl curtains with transparent electrostatic plastic paneling around the booth's perimeter.
Our straightforward system incorporates a fan unit with a HEPA air filter mounted in the ceiling surface, ensuring a continuous supply of clean air into the booth. Additionally, a positive-pressure ventilation system efficiently directs air through the exhaust filter.
Key Features:
・Fully Customizable to Your Specifications
・Exceptional Airtightness
・Utilizes Low-Noise, Low-Power Fan Filter Units
・Integrated Recessed Lighting Equipment
・Effortless Filter Maintenance
・Equipped with Pre-filter and Positive Pressure Damper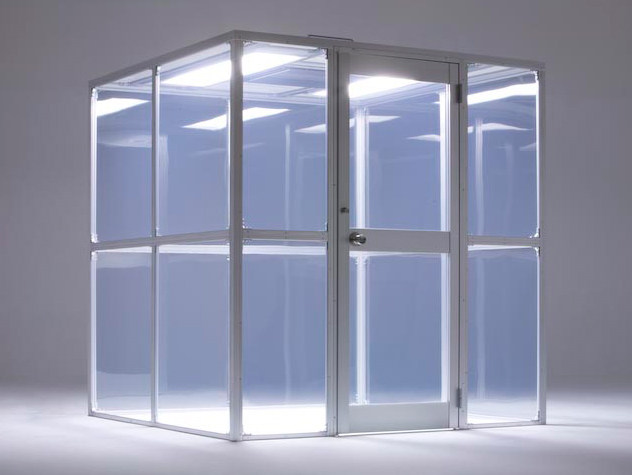 Example of use
1,W15500*D3500*H2400 JIS Class 6
2,W5000*D5000*H2800 JIS Class 6
3,W5500*D5000*H2500 JIS Class 7
4,W2000*D2000*H2200 JIS Class 6
5,W3800*D3500*H2300 JIS Class 6
Features of KAMATA CLEAN BOOTH
Completely Customizable
Our clean booths are entirely made to order, offering low-cost solutions with quick delivery and superior cleanliness. We tailor each unit to your specific requirements, considering factors like installation location, usage conditions, and size. Beyond the standard box-shaped design, we accommodate various dimensions and shapes.
Excellent Airtightness
The specialized design of our original aluminum frame ensures outstanding airtightness. While we use 3 mm transparent antistatic PVC panels as standard, we offer the flexibility to adopt acrylic or polycarbonate material (panel thickness up to 4 mm) based on your usage conditions. Each panel is attached separately, allowing for easy replacement in case of damage or dirt. Exceptional airtightness results in a low air exchange rate, keeping operating costs low, especially when compared to products using vinyl curtains.
Facilitates Dual Inside-Outside Mounting
Our frame design features grooves for panel attachment on both the inner and outer sides, allowing customers to choose between outside mounting, inside mounting, or dual inside-outside mounting. Dual inside-outside mounting reduces turbulent airflow, enhances cleanliness, and creates a heat-insulating layer, effectively reducing noise and maintaining temperature.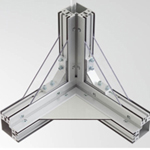 Beautiful Design
Our clean booths feature an appealing design with anodized aluminum frames and clear coating. The corner R-type frame combines elegance with safety by preventing injuries to those in contact with it.
Excellent Filter Maintenance
The bottom-maintenance system allows for HEPA filter replacement from within the booth, ensuring easy and efficient maintenance.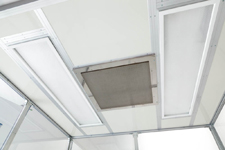 Low Noise, Low Power Consumption
We utilize lightweight, thin-type HEPA fan filter units with built-in proprietary high-efficiency turbofans. These units consume minimal electricity and produce very little noise.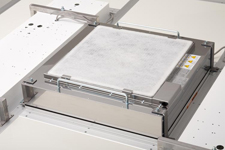 Recessed Lighting Equipment
Our clean booths incorporate recessed fluorescent light units designed specifically for clean rooms. Specially designed gaskets on the light covers insulate the clean air inside the booth from unfiltered air behind the ceiling surface.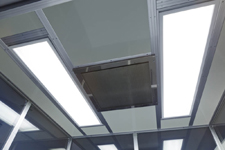 Vinyl Curtain Booth
For applications like welding, we offer an option with 0.5 mm antistatic vinyl curtain material. This choice provides strength and durability while maintaining an attractive exterior appearance. Additionally, stainless steel or carbon steel plate frames can be provided to suit specific needs.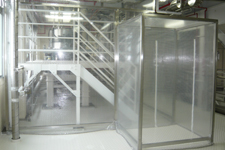 Please contact us for inquiries by E-mail. info@kamata.co.jp
KAMATA Industry Co.,Ltd.  SALES PROMOTION DEPT
Product Installation in Countries Outside of Japan
We perform installation of clean booths in Southeast Asian countries, arranging installations through collaboration with local companies.
Please contact us for inquiries by E-mail. info@kamata.co.jp
KAMATA Industry Co.,Ltd.  SALES PROMOTION DEPT