Company
企業情報
Please contact us for inquiries by E-mail. info@kamata.co.jp
KAMATA Industry Co.,Ltd.  SALES PROMOTION DEPT
Summary of Company
KAMATA Industry Co.,Ltd.
Representative director
Yoshiaki Kamata
Foundation
Year1921
Capital
93,000 Thousand yen
Number of employees
100
Objectives of company
・ Design and Construction of Clean Room, Clean Covers
・ Processing and Sales of Various Industrial Rubbers and Resins
・ Design and Construction of Labor-Saving Devices
Head office

Shinagawa Grand Central Tower-Bldg 24F,2-16-3Konan,Minato-ku,Tokyo 108-0074 Japan

Branches
SAITAMA
1-298-3Hikokawado,Misato-city,Saitama 341-0005
KAWASAKI
2-4-20Ikegami,Kawasaki-ku,Kawasaki-city,Kanagawa 210-0832
SAGAMIHARA
3-2-1Kobuchi,Minami-ku,Sagamihara-city,Kanagawa 229-0011
FUJI
352-1Gokanjima,Fuji-city,Shizuoka 416-0946
・ENVIRONMENTAL ENGINEER
・MANUFACTURE DEPT
・SALES PROMOTION DEPT
SHIZUOKA
23-1Kataoka,Yoshida-cho,Haibara,Shizuoka 421-0303
OSAKA
11-17Yokomakuranishi,Higashiosaka-city,Osaka 578-0956
FUKUYAMA
4-14-17Daimon-cho,Fukuyama-city,Hiroshima 721-0926
KUMAMOTO
1861-3Soryo,Mashiki-cho,Kamimashiki,Kumamoto 861-2233


Main Customer
Steel industry, Metal Industries
JFE Steel Corporation
Sumitomo Metal Mining Co., Ltd.
Nippon Light Metal Company, Ltd.
Mining industry, Cement industry
Mitsubishi Materials Corporation
Taiheiyo Cement Corporation
Paper manufacture、Printing industry
Oji Paper Co., Ltd.
Nippon Paper Group, Inc.
Dai Nippon Printing Co., Ltd.
Yomiuri Shimbun
Tokyo Paper Mfg. Co., Ltd.
Chemical industry , Food industry
FUJIFILM Corporation
Asahi Kasei Corp.
Nissin Food Products Co., Ltd.
Meiji Co., Ltd.
Lotte Co., Ltd.
Government and municipal offices public agencies
National Printing Bureau
National Maritime Research Institute
Machine industry, Electrical industry
Ricoh Company, Ltd.
Nikon corporation
Range of products
◎ KAMATA CLEAN BOOTH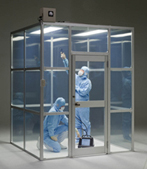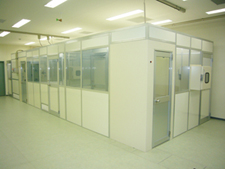 ◎ KAMATA CLEAN ROOM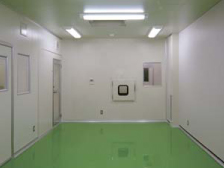 ◎ Belt and Material goods
Belt, Materials-handling system, power-saving equipment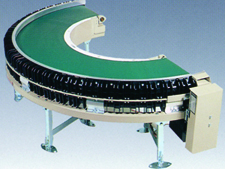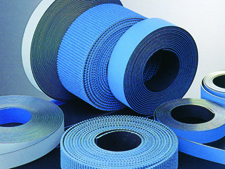 ◎ Hose and joint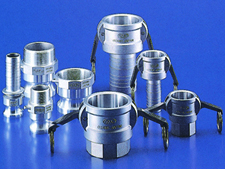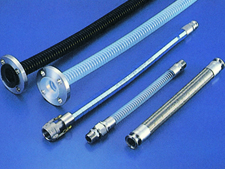 ◎ DiChrone Coating (Surface treatment)
This is nonstandard chrome plating that performs treatment with an original catalyst bath. Since mixed catalyst is used and chromium carbide alloy with high intermolecular bonding is coated, the surface is relatively hard (approximately HV1000) and various features such as wear resistance are obtained.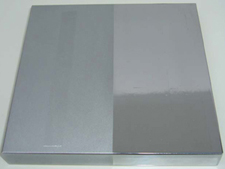 ◎  Emergency Shower Booth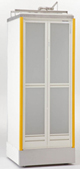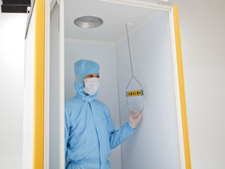 ◎ High-performance filter
◎ Tactile Sensor (Pressure distribution measuring system)
◎ Insulating material
◎ Waste water treatment
◎ Mechanical equipment
◎ Rubber and resin molding
Please contact us for inquiries by E-mail. info@kamata.co.jp
KAMATA Industry Co.,Ltd.  SALES PROMOTION DEPT
KAMATA Clean Booth
Completely made-to-order contamination control booths using original aluminum frames. Provides cleanliness factors ranging from ISO class 5 to class 8.
We have adopted a specialized lightweight aluminum frame design in pursuit of sealing performance and safety.
By using transparent electrostatic plastic paneling around the perimeter of the booth, we have created a superb clean environment without the use of vinyl curtains.
Our simple system uses a fan unit with a HEPA air filter installed in the ceiling surface to convey clean air into the booth and a positive-pressure ventilation system to send air through the exhaust filter.

  - Completely made to order
  - Excellent airtightness
  - Uses a low-noise-level, low-power-consumption fan filter unit
  - Recessed lighting equipment
  - Excellent filter maintainability
  - Pre-filter and positive pressure damper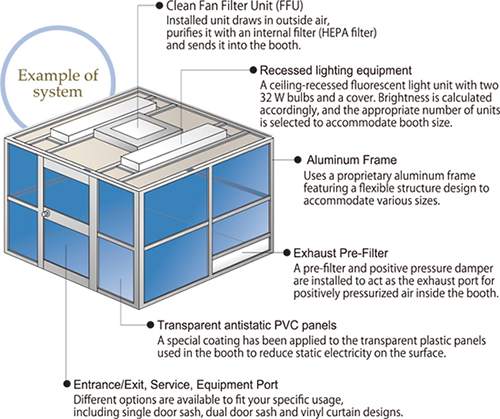 Example of use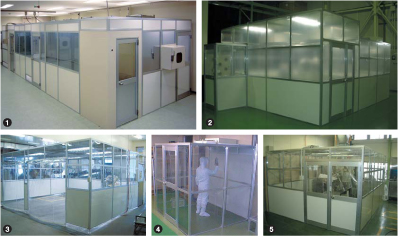 W15500*D3500*H2400 JIS Class 6


 W5000*D5000*H2800 JIS Class 6


 W5500*D5000*H2500 JIS Class 7


 W2000*D2000*H2200 JIS Class 6


 W3800*D3500*H2300 JIS Class 6


Feature of a KAMATA CLEAN BOOTH
Completely made to order
Low cost, quick delivery and enhanced cleanliness. We custom-design your unit in consideration of installation location, usage conditions and size. Aside from the box-shaped design, various dimensions and shapes are possible.
Excellent airtightness
The specialized design of our original aluminum frame maintains excellent airtightness. We utilize 3 mm transparent antistatic PVC panels as standard, but acrylic or polycarbonate material can be adopted instead to accommodate usage conditions (panel thickness up to 4 mm).
Each surface is attached separately, so even if a panel breaks or becomes dirty it can be easily replaced.
Excellent airtightness results in a low air exchange rate in order to maintain the level of cleanliness. This means that running costs can be kept to a low level, especially when compared with products that use vinyl curtains.
Facilitates Use of Dual Inside-Outside Mounting
Because the grooves used for affixing the panel materials are located on both the inner and outer sides of the frame, customers can choose between outside mounting, inside mounting and dual inside-outside mounting. Use of dual inside-outside mounting in particular fills in both the inner and outer grooves, which is effective in preventing turbulent airflow and makes possible a higher degree of cleanliness. In addition, this creates a heat-insulating layer, which is highly effective in reducing noise and maintaining temperature.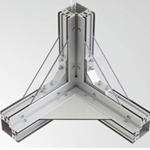 Beautiful Design
Highly appealing design through use of anodized aluminum frames with clear coating. The corner R-type frame in particular achieves an elegant design while also maintaining a high level of safety by preventing injury to people who come into contact with it.
Excellent filter maintainability
The bottom-maintenance system enables HEPA filter replacement to be conducted from inside the booth.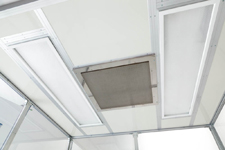 Uses a low-noise-level, low-power-consumption fan filter unit
Utilizes a lightweight, thin-type HEPA fan filter unit. The built-in proprietary, high-efficiency turbofan consumes little electricity and produces minimal noise.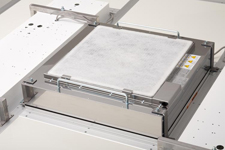 Recessed lighting equipment
Uses recessed fluorescent light units designed for clean rooms. Use of a specially designed gasket on the light cover insulates the clean air inside the booth from the unfiltered air behind the ceiling surface.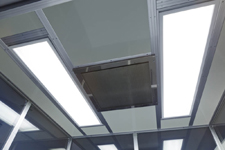 Vinyl Curtain Booth
Adoption of 0.5 mm antistatic vinyl curtain material provides strength and durability against breakage while creating a pleasing external appearance. For welding and other such uses, a stainless steel frame or carbon steel plate frame can be prepared.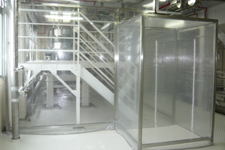 Please contact us for inquiries by E-mail. info@kamata.co.jp
KAMATA Industry Co.,Ltd.  SALES PROMOTION DEPT
KAMATA CLEAN ROOM
Use of prefabricated heat-insulating panels enables quick installation of clean rooms (from ISO class 5 to class 8) for electronic part production lines, medical supply production lines, food processing lines and other fields that require high levels of safety and sanitation.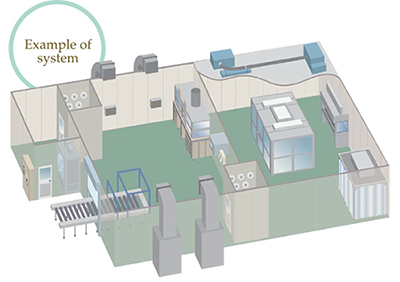 Design Freedom through Use of Heat-Insulating Panels
Using heat-insulating panels, we secure hinges in existing building structures and install reinforcing materials in the ceiling to create a pillar-free space. Ceiling heights of up to 7800 mm are possible with one panel.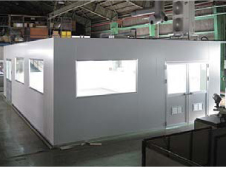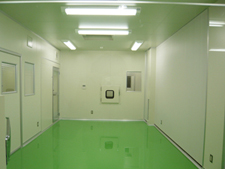 High Cleanliness
We provide everything from high-performance clean rooms whose entire ceiling sections act as filters to special rooms that prevent outside dust from entering, utilizing climate control technology to provide an optimized method for keeping rooms clean. If necessary, floor coating, grating and other measures can be applied.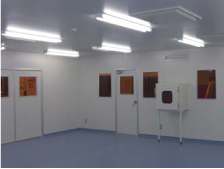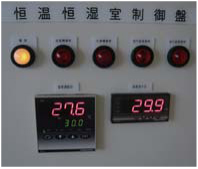 Product Installation in Countries Outside of Japan
We perform installation of clean booths in Southeast Asian countries, arranging installations through collaboration with local companies.
Please contact us for inquiries by E-mail. info@kamata.co.jp
KAMATA Industry Co.,Ltd.  SALES PROMOTION DEPT